Our vision is to inspire communities to protect, improve and maintain the natural environment.
Wirraminna's Journey
Established in 1995, Wirraminna Environmental Education Centre is set on an old stock reserve and public watering place. Wirraminna is located in Burrumbuttock, approximately 32 km northwest of Albury, NSW.
We would like to acknowledge and pay respect to the Traditional Owners of the land on which Wirraminna is built; the Wiradjuri people of Wiradjuri Country. We pay our respects to Elders past, present and future.
Wirraminna reserve is managed by Greater Hume Shire Council. As a section 355 Committee of Council, Wirraminna has its own management committee. Wirraminna was developed and maintained by this committee and local volunteers.
DOWNLOAD THE WIRRAMINNA STORY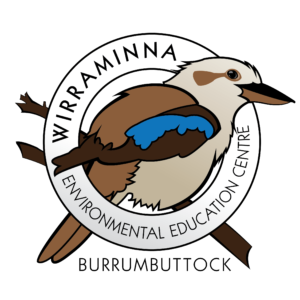 The Wirraminna Park
Open to visitors every day of the year, the Wirraminna park is 4 hectares in total, with a large dam, wetlands, natural woodlands and native garden beds.
It also provides a popular outing for clubs and organisations in the district, and many locals and visitors to the region call in to explore the gardens and learn about our local environment. Extensive interpretative signage around the park tells the environmental story. Developed and maintained by local volunteers, Wirraminna presents a model for local Landcare projects that aim to restore native vegetation and wetlands on farms to redress problems of declining biodiversity. The gardens and natural woodlands contain many locally rare native shrubs, wildflowers and grasses which attract a range of animals such as native bees, frogs around the waterways, skinks, many bird species, possums and the threatened Squirrel Glider. Upon entry to the park, the Visitors Centre is full of interpretative signage and art pieces. A free BBQ is available, with a vista over the big dam.
The park is continually evolving and improving our story of the beauty and interest of our natural environment and how it can be protected and enhanced.

Discovery Centre and Sunshine Room
In 2005, Wirraminna received financial support from the Australian Government's Regional Partnerships program, with which matching local support enabled the construction of a rammed earth building – named the Discovery Centre, which greatly increased our capacity to provide educational resources and displays. This Discovery Centre is used for school and community activities and provides displays, teaching and storage resources. Thousands of school children visit Wirraminna annually, from schools throughout the region.
An aquarium display of native fish has provided an exciting new window on the aquatic environment of the Murray-Darling Basin. The Discovery Centre is also home to a display of endangered Southern Corroboree frogs, a native animal taxidermy collection and other interpretative displays.
The building provides audio visual equipment, an interactive plasma screen, photocopiers, computers, printers, reference library and WIFI/mobile services.
The Discovery and Learning Centre is only open by appointment and can be hired (link to hire section).
In 2019, a dedicated art gallery was created within the building to provide an art exhibition and teaching space, with a focus on modern Indigenous art, culture and nature. The fixed panel wall displays with gallery lighting creates a pleasing display for local artists.
Built and opened in 2018, the Sunshine room is an added extension to the Discovery Centre as an office for administration services. An initial donation from the Sunshine Foundation, hence the name, started the build. Funding from then both state and federal bodies, brought the total investment over $100,000.  The office is used by staff from Wirraminna EEC, West Hume Landcare, ANU Sustainable Farms and Petaurus Education Group, where the Sunshine room provides a workplace hub for the delivery of Landcare, environmental education, cultural and sustainable agricultural programs.