Squirrel Glider Local Area Management Plan
The purpose of Burrumbuttock Squirrel Glider Local Area Management Plan (LAMP) is to secure viable populations of squirrel gliders in the Murray catchment through community action. A LAMP is essentially a map that shows what on-ground work needs to be done in the area to ensure the viability of the local squirrel glider population.
The LAMP process uses the local community to help steer the planning and implementation of threatened species conservation. The local community is involved throughout the process and they help determine the extent of on-ground works that can be implemented to support local populations of threatened species. Ultimately, the process devolves responsibility for implementing and managing the LAMP to the community.
The community of Burrumbuttock was chosen for a LAMP as it contains the threatened and iconic squirrel glider, significant habitat change had occurred in the area (placing the local squirrel gliders at risk of extinction), there was a long history of the community undertaking works to benefit squirrel gliders, and the community had identified Burrumbuttock as a priority site for squirrel glider conservation.
The Squirrel Glider LAMP project is a partnership between Petaurus Education Group Inc., Murray Local Land Services, the Office of Environment and Heritage, Greater Hume Shire, West Hume Landcare, Wirraminna Environmental Education Centre and Burrumbuttock landholders. The project is funded by the Australian Government's National Landcare Programme and Catchment Action NSW.
SQUIRREL GLIDERS
Squirrel Gliders (Petaurus norfolcensis) are a mid-sized possum reliant on tree hollows for shelter and nesting. Habitat fragmentation has contributed to their decline in the Murray region and subsequent listing as a threatened species.
Large ​gaps between trees and patches of vegetation affect the movement of gliders across the landscape, interrupting their breeding and feeding activities.
Squirrel Gliders may be mistaken for the Sugar Glider (Petaurus beviceps). However, Squirrel Gliders are larger and have a much bushier tail and whiter belly. Squirrel Gliders are more common in the Burrumbuttock area.

Planned activities
This project will focus on:
Continuing to roll-out the on-ground works program by engaging one-on-one with Burrumbuttock landholders in target areas.
Fencing and revegetation to increase habitat and connections across the landscape
Replacing barbed wire with plain wire in high risk areas where squirrel gliders can easily get tangled and perish.
Installing nest boxes in habitat where trees are less than 150 years old and lack suitable hollows.
Planting individual trees with large wire mesh stock-proof tree guards to create "stepping stones" between large old trees and habitat patches that are too far apart for gliders to safely move between.
Achievements
The project's key achievements so far, include:
The establishment of a strong steering committee that guides decision-making.
Habitat assessments and Squirrel Glider surveys to quantify the current size of the Burrumbuttock Squirrel Glider population.
41 Burrumbuttock landholders supporting Squirrel Glider conservation on their properties.
46 LAMP Agreements committing sites to the project
Extensive fencing (over 56km) and revegetation (over 40,000 seedlings plus direct seeding) to increase the size and quality of Squirrel Glider habitat, and the number of connections between habitat.
The installation of 721 stock-proof tree guards to fill gaps between paddock trees and remnant vegetation patches, enabling gliders to move safely and avoid coming to the ground.
Over 136 ha of revegetation and enhancement of Squirrel Glider habitat.
Resources to celebrate the landholders supporting Squirrel Glider conservation and a Squirrel Glider Paper Plane School Education Kit
The newly-revised Squirrel Glider Habitat Management Guide is also available from the project team (see contact details below).
Have you seen a squirrel glider?
As part of the planning process for the project we are keen to collate information from landholders about squirrel glider sightings regardless of whether it was a recent sighting or from a number of years ago.
Squirrel gliders often live on private land, so the assistance of landholders is very important to help us to understand their distribution.
Complete a squirrel glider survey. The form can be submitted directly to Lou Bull or you can print it out and post the completed form to Petaurus. The data collected from this form helps guide the planning of targeted on-ground works.
LAMP Post Newsletter
The LAMP Post newsletter provides updates on the Burrumbuttock Squirrel Glider LAMP project. Please contact one of the project team (see contact details below) if you would like to:
sign-up to the the newsletter
contribute to the newsletter, or
have questions about the Squirrel Glider LAMP project.
Newsletters
Burrumbuttock Bus Shelter
Resources
Squirrel Glider Fact Sheet
Squirrel Glider LAMP Project Officer has prepared a fact sheet about Squirrel Gliders, their threats and where to find them in the greater Burrumbuttock region.
LAMP Poster
The Squirrel Glider LAMP Poster gives an overview of the project and among other things outlines the steps involved, the progress so far and where to next for this threatened species.
Squirrel Glider Habitat Management Guide
Squirrel Glider Habitat Management Guide has also been prepared to provide practical information on the habitat requirements and management actions needed to conserve Squirrel Gliders. It contains general information on gliders as well as detailed information on their habitat needs for shelter, food and breeding.
Squirrel Gliders: Gliding to a Better Future
This is an interactive multi-touch book AVAILABLE ON iBOOKS that looks at the ecology of Squirrel gliders, threats to their survival and the conservation efforts being employed to protect them. It is a compilation of the work prepared by students as part of a 2014 Creative Catchment Kids program (see below), as well as additional content provided through the LAMP project.
Nest Hollows in Southern NSW
This short film clip talks about the importance of tree hollows in our landscape. There are multiple animals that rely on tree hollows which includes our Squirrel Gliders. Learn more about why hollows are important and how we can ensure they remain part of our natural landscape. This film clip was produced by Petuarus Education group with funding from Riverina Local Land Services, Murray Local Land Services and Murrumbidgee Landcare Inc.
Squirrel Glider Rescue and Release
This short film clip follows the process of rescuing a Squirrel Glider, which was found caught on a barbed-wire fence, and through to its release back into the bush. We would like to thank Hazel Cook from WIRES and Dr Nadine Miller from the Family Vet Centre in Albury for caring for our injured wildlife.
Burrumbuttock landholders continue their commitment to a landscape with Squirrel Gliders
This booklet highlights the achievements of the Squirrel Glider LAMP project from 2015 to 2018. Prepared by Lou Bull and students from Burrumbuttock Public School, it includes interviews with landholders and acknowledges others involved in the project. DOWNLOAD THE PDF
Student Created Books
Albury-based high school students developed the following books in 2014 as part of the Creative Catchment Kids program. The books allow readers to understand more about our cute little marsupial locals.
In 2016, students from Burrumbuttock Public School chronicled the involvement of local landholders involved in the Squirrel Glider LAMP project. Their interviews are located in the "Burrumbuttock landholder's continue their commitment to a landscape with Squirrel Gliders" book above.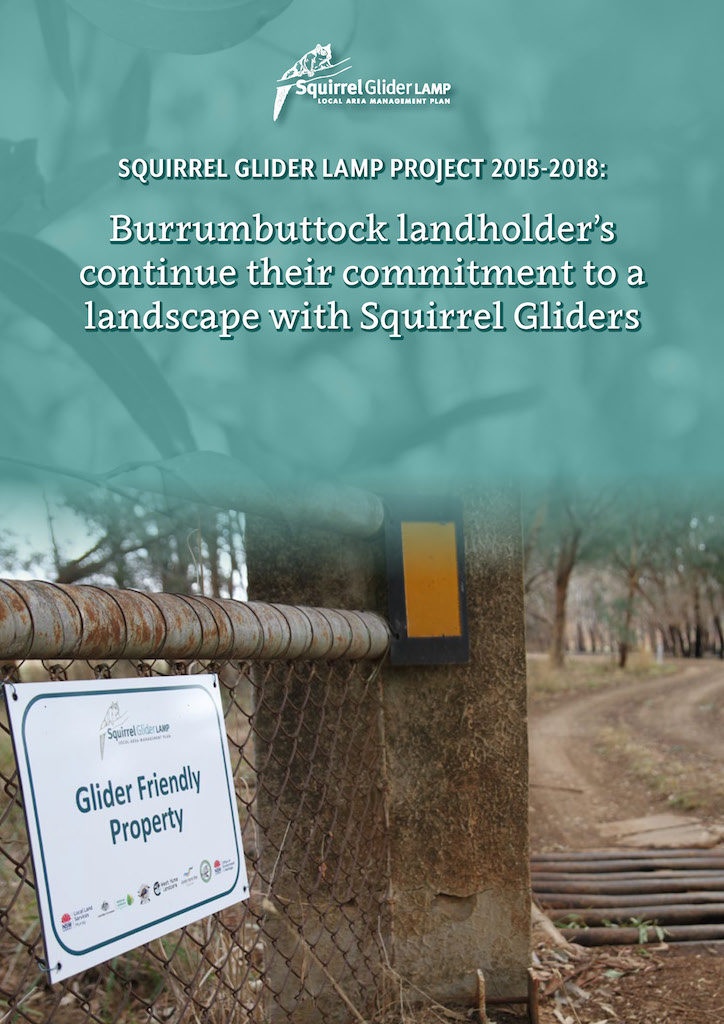 Student Activities
The Squirrel Glider Paper Plane School Education Kit contains Activity Sheets for teachers and the necessary equipment to carry out lessons on the threatened Squirrel Glider. Alternatively you could book an excursion to the Wirraminna Environmental Education Centre or a school visit with one of our experienced Environmental Educators to have them run the activity with your class.
What's inside?
Squirrel Glider paper planes, instructions and fact sheet
Squirrel Glider Activity Sheets
Squirrel Glider Habitat Management Guide
Cat mask x 4
Fox mask x 4
Barbed wire (rope with pipe cleaners attached) x 3
Laminated photo of car
Laminated photo of nest box
Laminated photo of Barking Owl (natural predator)
Bull dog clips and elastic (for attaching photos to children)
Wooden frame (to represent hollow)
Green party hats (to represent trees) x 6
Measuring tape x 2
Grey lead pencils
Notebook